Sempack France Group creates an Advisory Board of Experts in Corporate Strategy, Marketing, and Business & Industrial Development.
---
An Advisory Board was created in the third quarter of 2022 within the Group Sempack France. Three experts in corporate strategy, marketing, business, and industrial development joined the Committee.
The members will support the deployment of both companies' activities (Sempack & Semco) and help scale their business operations.
Coming up for SEMPACK FRANCE
The three members will help strengthen the structure of Sempack France Group and solidify its positioning in its mission and promise: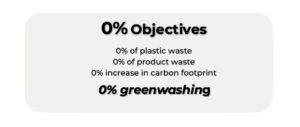 The professional members of the Advisory Board are Dr. J. André de Barros Teixeira, Philippe Marmara and Alexandre–Réza Radji.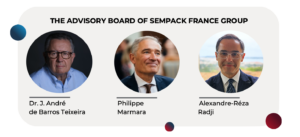 As new members, they will guide and help the Group achieve the company's promise of responsible global consumption.
Sempack France aims to strengthen and accelerate its efforts to encourage ecological awareness in the industrial packaging market and to be an actor in the Sustainable Development Goals (SDGs) also known as the "Global Goals" for 2030.  
Dr. J. André de Barros Teixeira is an executive with 40 years of experience in multinationals on six continents, including Goodman Fielder, Campbell's, Interbrew, and Coca-Cola. In the latter, where he spent 23 years, he occupied many posts, including directorships in R&D, Operations, and General Management, having been among others, Vice-President R&D for the Far East based in Hong Kong, Assistant Director, Corporate R&D, Atlanta, USA, General Director of Coca-Cola Services for Europe, Vice-President of Global Development Centre for Europe, Africa and the Middle East in Brussels, Belgium, and President, Coca-Cola Russia, Ukraine and Belarus in Moscow. Creator of an ideation technique used in various organizations and companies around the world, and author of a management development program, he is currently a partner in technology and wine startups. Executive lecturer at business schools in Belgium, the UK, Brazil, Australia, and Switzerland. He is an Associate Partner at Globalpraxis in Barcelona, Spain, and Advisor at BridgeWhat in Portugal. He is the author of « The H(uman)MBA, Lessons from the Classics of Literature and Philosophy you don't learn in business schools ». Education (BSc, MSc, MBA, PhD) in Philosophy, Industrial Chemistry, Food Science and Technology and Management at the universities of Cambridge, Reading, and Oxford, in the UK.
https://www.linkedin.com/in/j-andré-de-barros-teixeira-3a4721/
Philippe Marmara has held throughout his career key strategic roles, ranging from Chief Marketing Officer to Head of New Products and Innovations in Europe. He has also taken on key operational roles: CEO, President, and General Manager for the Coca-cola company, and Head of Customer Service and Director Africa and other Europe for American Express.
Philippe has a vast and solid range of experience, in all continents advising at senior level, with key companies in fast-moving consumer goods, telecom, and travel and lifestyle, such as Vodafone, McCain, Unilever, Heinz, AB InBev, Adidas, KLM, ExxonMobil, Zain Telecom, Kronenbourg, Coca-cola, JC Decaux, and Julius Meinl. He is regarded as a forward-looking, truly creative, thought-provoking leader, and an active change agent in the fields of innovative marketing, revenue growth management, route-to-market, and customer-centricity. He is unquestionably passionate about challenging the "status quo" and driving client success. Philippe is a Senior Partner and senior Vice President at Globalpraxis Group, visiting professor at CEIBS/Zurich Institute of Business Education, and an advisory board member at Cass Business School in London.
He holds an MBA (Honors) from Cass Business School London and MSc Marketing Inseec Bordeaux. A French national, he is fluent in French, English, and Italian, and has a good working knowledge of Spanish.
https://www.linkedin.com/in/philippemarmara/
Alexandre–Réza Radji, is an investor in "Impact Projects" since 2010 with, among others :
Dans le Noir ?; founded in 2004, is an international company of French origin that employs 50% of people with disabilities. The Group is present in 7 countries and 12 major cities around the world (Paris, Bordeaux, Nantes, Toulouse, Strasbourg, London, Barcelona, Madrid, St. Petersburg, Auckland, Cairo, and Brussels) with more than 100,000 customers per year and always in the top 5% of restaurants in each city.
The Magazine "Épatant, ça nous bouge!"; born from the meeting of passionate people of social innovation and the written press. A spark of enthusiasm to share in a troubled time lacking reference points, Épatant detects people who move, propose innovative, responsible, united ideas, and reinforces the social link, the respect for diversity while making the economy healthier. This magazine is the voice of inspiring actors and projects while being itself a solution of insertion and inclusion of people in precariousness.
Pipole; The Twitch media that comes to you in a van with a mobile studio to tell the stories of the actors of our society in our territories who are changing the rules and acting to succeed in all our current and future challenges!
Nobodi, Born to be live; the only "Live Stream" agency designed and run by generation Z for generation Z.
After a master's degree in Marketing, Alexandre-Réza started his career at Y&R Europe Group from 1992 to 1999 where he was in charge of Ford of Europe (B segment), Colgate-Palmolive (Bleach range France, Spain, Italy & Greece), and Auchan (Hi-Fi range, parapharmaceutical range, and national & district trade plans). Between 1999 and 2005, he pursued his career at Monoprix Group (Marketing & Communication Director – Comex member), then at Vivendi Universal Net (Divento Deputy Managing Director – Comex member), and finally at SFR (Loyalty & Customer Relations Director – Codor member). In 2005, he started his entrepreneurial life and founded TCMC alongside SFR, thus becoming the French leader in mobile database management for retail and industrial companies.
https://www.linkedin.com/in/alexandre-réza-radji-6887371bb/
---
About:

Semco is a Monegasque company that has been in existence since 1971. An experienced specialist in rigid plastic packaging, Semco was one of the first packaging companies to take environmental issues into account and to turn to bio-based vegetable materials. Continuing its R&D on the materials of tomorrow, Semco is responding to brands concerned about reducing their carbon footprint.
For more information: info@semco.mc

Sempack is a positive impact industrial start-up created in 2020 and based in Castagniers, near Nice, France. The company imagines the packaging of tomorrow thanks to its patented machines following the 3 axes of innovation: product-process-material.
Sempack® is an innovative, patented, eco-designed, and 100% recyclable flexible pouch.
This packaging is a real universal tool, totally customizable, and able to contain and protect all types of products (in the Cosmetics, Industrial, Food, Pharmaceutical, Hygiene and Care, and Household Products sectors). Sempack is supported by public and private networks.
---
Press Contact
+33 (0) 4 93 20 81 21
+377 97 98 62 10