SEMPACK FRANCE,
LAUREATE OF THE "FRANCE RELANCE" PLAN
 2021
The France Relaunch Plan
The government announced its "France Relance" deployment plan on September 3, 2020, with the aim of "relaunching" the growth of the various most promising sectors, in order to advance the French economy and job creation of tomorrow.
Clear objectives are set, a new France in 2030, more innovative, more sustainable, competitive and attractive, through the various programs of the "Horizons 2030" plan, financed by funds from the European Union.
Measures focused on accelerating the way out of the health crisis as well as preparing for the future are priorities for the industry, ecological and digital transition but also to consolidate social and territorial cohesion.
Industrial projects in the territories – SEMPACK
Promoting the revival of the French industrial sector remains a priority for the competitiveness of companies as well as the ecological transition and the relocation of the supply chain by favoring the Made in France.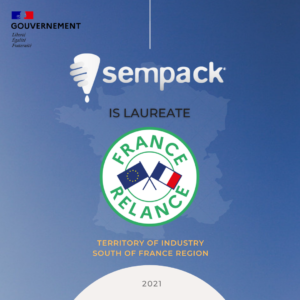 The SEMPACK project includes, among other things, an industrial relocation, creating local jobs which are one of the priorities of the Recovery Plan.
The company has thus received a financial help of 800,000 euros from the Support Fund for Industrial Investment in the French Territory.
Sempack is specialized in the packaging sector, mainly in disruptive innovation on 3 axes (product-process-materials).
Its production has been relocated to Europe with a production site in France, in the Eco Valley of Nice at the Roguez Business Village since the start of 2021.
The company has several objectives, some already underway, such as R&D innovations in 100% recyclable ecological packaging.
Sempack has invested 2.7 million in the purchase of machines and the deployment of the 3 axes of innovation. The help of 800,000 euros, this will allow it to achieve its industrial innovation objectives, to progress more quickly in a promising sector by setting up a circular economy as well as with a clearly defined CSR objective.
"The France Relance plan reinforces our industrial strategy, which aims to create jobs by relocating R&D and the production of innovative and more environmentally friendly products to France. It gives credibility not only to an Industry 4.0 product, but also to more socially and environmentally responsible value creation".

– Wenaël Regnier, Founder & CEO.
– For more information, discover the measures of the Recovery Plan on the website of the French Government.
Contact us! info@sempack.fr