FAQs (Frequently Asked Questions) about SEMPACK
Everything you dream of knowing immediately on SEMPACK without daring to ask …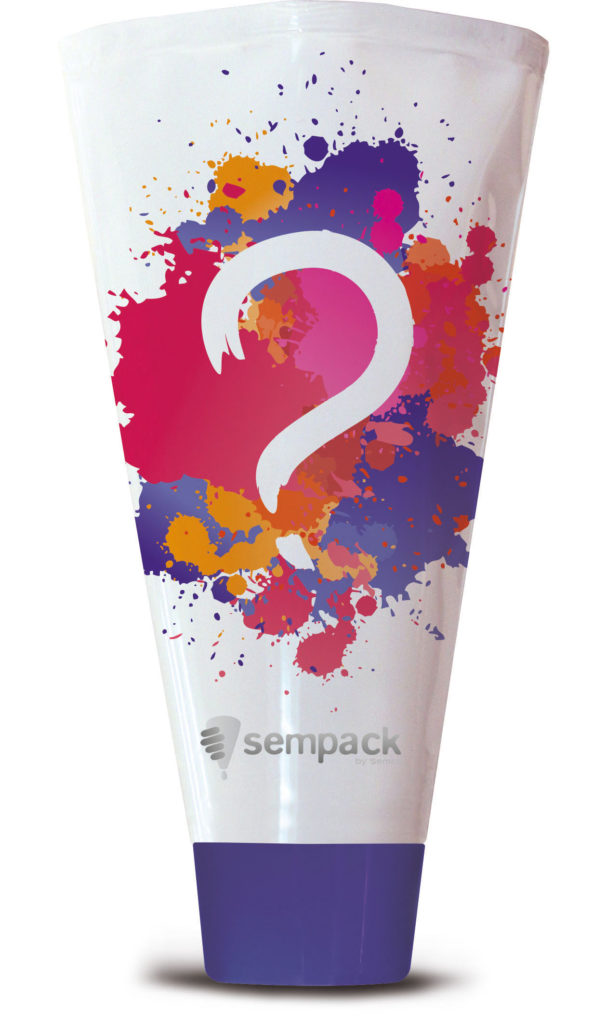 What are the available closures options ?
All kind of screwing accessories :
standard screwing caps, Flip Top caps with or without valves, Twist caps, droppers, etc…
– Sempack has no snap-on option
– 2 collar sizes available : 24/410 & 38/400
– Same collar as Doypack is already under development phase
– Other collars could be developed on demand according to the cap wished
– For Sempack in 24/410 collar, 2 specific caps developed: a standard and a flip top.
What are the printing options ?
– Digital printing for batches from 5,000 to 50,000 units – no color limit
– Helio printing (from 50,000 pieces) – up to 8 colors
What are the MOQ ?
– 200ml : 10 000 parts in digital printing
– 300ml : 5 000  parts in digital printing
– 600ml : 5 000  parts in digital printing
What are the lead times ?
– With digital printing : around 10 weeks for 10,000 units
– With helio printing : 14/16 weeks for 10,000 units
What are the material options ?
– Multilayer film made with the same types of material as standards flexible pouches on the market (food contact, with oxygen/light/moisture barriers, etc.)
– Customizable according to the protection needed.
– Sempack can be transparent or fully printed
– Today, available in : OPP/PET Alox/PE – PET/Aluminium/PE – Full PE*– Full PP**
* 100% recyclable – **100% recyclable, sterilizable, pasteurizable, compatible hot-filling
Is SEMPACK recyclable ?
Yes, in Full PP or Full PE. Final consumer can put Sempack in the recyclable trash, it will be treated as standard PE or PP bottles.
SEMPACK will be tested with green renewable films (Braskem sugar cane material). Validation pending…
Is SEMPACK biodegradable ?
Are you selling empty packaging or are you selling machines which are able to do this pack?
At the moment, we provide pre-formed and printed empty pouches, and we do not fill them.
But by end of 2019, SEMPACK will be able to sell directly FFS machines to its customers or co-packers (able to form, fill and seal Sempack pouches).
How can I fill SEMPACK ?
Sempack has been imagined to be filled as a standard bottle (from the top) as it remains quite stable -> No major changes or adaptation on standard co-packers filling lines.
Can I hot-fill or pasteurize SEMPACK ?
Yes, in Full PP material.
I have not found an answer to my question in these FAQs, what to do? …
In this case, you just have to send us an email at info@sempack.fr and we will do our best to answer you as soon as possible!